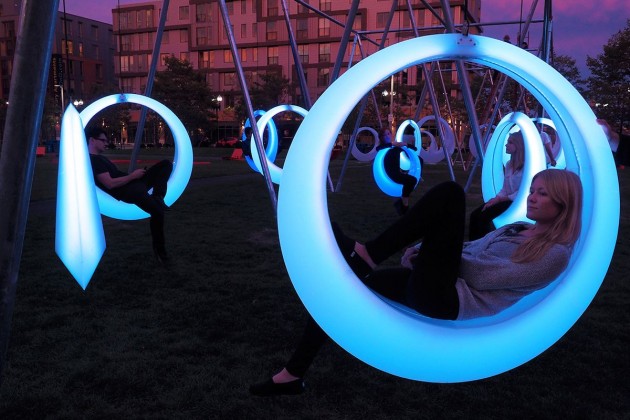 A new park installation in Boston, MA allows you to sit and swing on light!
Swing Time is an interactive sculpture installation composed of 20 illuminated swings. The swings are part of a temporary park between the Boston Convention and Exhibition Center on the D Street lawn. Custom fabricated from welded polypropylene, the swings are designed in three different sizes so that community members of all ages can interact with them.

LED lighting within each swing reacts to the amount of motion when the swing is in use with colors ranging from white to blue to purple. The Swing Time project aims to activate outdoor spaces in Boston using technology and creativity, and was designed by Boston-based Howeler and Yoon Architecture.
Here is a Vimeo Video of the swings in action, but if you're local to the area, you can check it out in person through October 31st!